Thankfully Naughty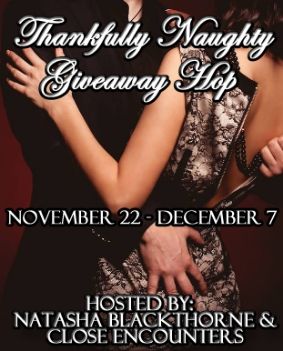 Welcome to the Thankfully Naughty Giveaway Hop, and thanks for stopping by! This post, as I'm sure you've already guessed, is all about wickedness. As an erotica and erotic romance writer, I can supply wickedness with no trouble at all… but definitely the good kind 😉 So here's a little snippet from one my wickedest (did I just make up a word there?) recent releases, Testing Tom, a femdom erotic romance:
Sitting in the middle of the sofa, her usual television-watching spot, she crossed her long legs and picked up the remote that was resting on the arm. Just before pressing the button to switch the set on, she spoke. "Turn around, Thomas. Face the corner next to the front door, sit down, be silent and don't move until I tell you."

"Y—yes Mistress." He said nothing else, but she heard the rustle of clothing and muffled thumps as he shifted into the position she'd ordered. After giving him long enough to get himself sorted, only then did she turn her head and look at him.

"Very good," she said, with a nod. "Now I'm going to watch some TV."

He remained still and silent, so she twisted back around and did as she'd said. Pushed the red button and waited for the screen to flicker into life, before using the remote to find a channel she wanted to watch and selecting it.
For the entire hour of the first program she watched, the only sound came from the television. Had she muted it, she would probably have heard only two lots of breathing. Tom was doing as he was told, and doing it well.
I hope you enjoyed that. I know Tom did 😉 You can grab the eBook here.
So, now for my prize. I'm giving away a $5 Amazon Gift Card. Just use the Rafflecopter below to enter, then scroll down and check out the rest of the blogs on the hop.
a Rafflecopter giveaway